The new thor 3030 is availableThe new Thor 303 is available
Polini launched the new Thor 303 that will replace the Thor 250.
An innovative engine with important novelties that result into reliability, power. Reduced weights, reduced aerodynamic section and moderated depth.
This is the engine of the Thor family with the biggest displacement with cylinder, crankshaft, carburetor, air box, CDI and exhaust system completely redesigned to grant better performance and flight safety. With 38hp at 8000 rpm, Thor 303 offers 120 kg of static thrust with a propeller of 160cm* The consumption is only of 3 liters per hour at 4500 rpm, that corresponds to 30 kg of static thrust, medium range at level flight.
Thor 303 is available in 3 versions:
Thor 303 with Manual "Flash starter"
Thor 303 with electric starter+ Manual "Flash starter"
Thor 303 Dual Spark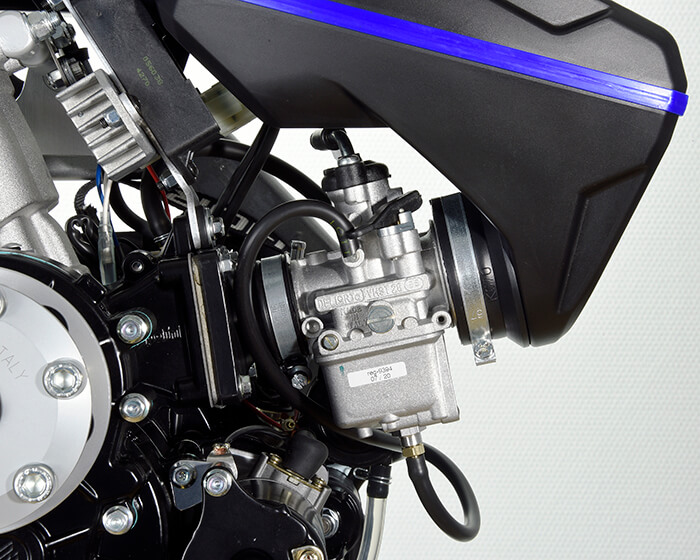 Considering the power of the Thor 303 engine, it finds its highest expression when installed install it on single or be-place trike, delta trike, 3-axle or U.A.V (unnamed aerial vehicle). The installation on single-seat paramotor is recommend to expert pilots only and for slalom competitions.
| | |
| --- | --- |
| Polini Engine | 2 stroke monocylinder |
| Cooling | Liquid cooled |
| Bore for stroke | 76 x 62 |
| Displacement | 281 cm3 |
| Power | 38 HP at 8000 rpm |
| *Max trust | 120 Kg with Ø 160 cm propeller |
| R.P.M. max | 8.400 |
| Cylinder | Aluminum with Gilnisil coating |
| Compression ratio | 11,2:1 |
| Piston | Two trapezoidal chromium plated rings |
| Intake | Reed valve in the crankcase |
| Carburetor | Dell'Orto VHST 28mm |
| Air filter | Air box |
| Ignition | Electronic CDI with adj. advance |
| Battery charger prearrangement | Output power 40 W at 5500 RPM |
| Spark plug hood | 5k Ω resistance |
| **Fuel type | E5 petrol or LL AV GAS-al with 2,5% synthetic oil 100% |
| *Consumption | 3 Lh 30 Kg a of static trust |
| Gear reduction unit | Helicoidal teeth in oil bath with 2,8 or 3,2 reduction ratio |
| Starter | Flash Starter – (Electric starter -optional) |
| Clutch | Centrifugal in oil bath |
| Muffler | Expansion with aluminum silencer |
| Engine weight | Starting from Kg 20,5 (manual starter model +radiator) |
| Propeller rotation | Clockwise |